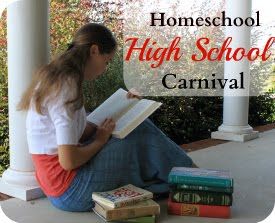 Do you ever have those days when you feel like you got exactly three-quarters of nothing done all day?
That would be me today. Blame it on
a fussy baby (who is feeling better as the day goes on) and
lifting a too-heavy pot of chicken stock too early. (It sure didn't seem like it would weigh as much as the baby! But I guess chicken stock in a pot distributes differently than "baby" does.)
Anyway, I was supposed to host today's Homeschool High School Carnival, but with all the new baby-ness around here, I shot off a plea for help and Theresa at Lapaz Farm graciously stepped in to host in my place.
The theme this month is A Day in the Life of a Homeschooled Teen. I'm planning on checking it out... as soon as life cooperates!